A few months ago, I noticed a little leopard print logo on a new blog I'd just started reading. The blog was
Deanna's Corner
and somehow, I'd stumbled across her blog. After doing a little bit of research this morning, I realized
this
was the first post of hers I'd ever commented on, and my comment was a doozy!
The strange thing was, she came to my blog and commented on a few of my posts!! Whaaat? I reserved comments for things that were unbelieveable or amazing, but this lady gave her comments freely?? WOW! I went to her blog and commented on her posts and she returned to mine.
A few days later, I clicked on the little leopard print logo I saw on her blog that looked like this: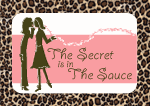 After visiting
The Secret is in the Sauce
a few times, and seeing it on other people's blogs, I finally figured out the secret of why Deanna was so generous in her comments!!
Soon, Deanna and I realized that we were sisters separated at birth! Okay, not really, but Deanna and I became SITSas through
The Secret is in the Sauce
.
Here are just a few of the people I've met through SITS.
Heather
Wep
Mommaof4wife2R
Aubrey
Brandy
So all of you that read my blog, but don't comment--leave me some commenty love so I can come leave some on yours! I'll even share
my Secret
!
p.s. *hint* It's in the sauce, my bloggy buddies.